DEXAS
DEXAS Adjustable Height Pet Feeder
Adjustable Height Pet Feeder - relieves pets of the aches & pains - suitable for home and travel use
Product description
DEXAS Adjustable Height Pet Feeder
Dexas, the producer of Popware products, spent many years designing beautiful products for the kitchen market. After considerable success, they have decided to expand into a new market called Popware for Pets. This brand is characterised by the use of food-safe materials and the unique way in which most products are foldable/collapsible. This means that Popware products are suitable for home and travel use.
The DEXAS Popware Adjustable Height Pet Feeder is a handy collapsible bowl stand for your home, car or travel.
The legs are adjustable in height, which prevents a leaning posture while eating.  The Adjustable Feeder relieves pets of the aches, pains, and general malaise sustained from long-term straining to reach floor-based food bowls.
It is a useful feeder for puppies, as it can grow with the dog. The silicone bowls are standard size and fold up to 3.75 cm, making them easy to carry or store.
The feeding bowls are removable and dishwasher-safe.
Available in stainless steel or in memory silicone (non-porous material, protects against unpleasant odours)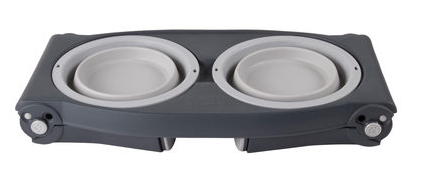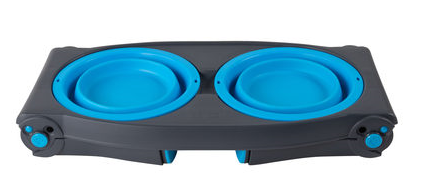 Feeding bowl : 2x 474ml
Stand : 50(W)x24(d)x3,5(h)cm
Folded : 7cm(h)
Folded out : Adjustable from 20 t/m 33cm
Product information
| | |
| --- | --- |
| Brand | DEXAS |
| Article code | PW120432429 |
| SKU | Pet Feeder Light Grey |
| EAN | 84297309060 |