FitPAWS
FitPA - adjustable and portable agility cone and hurdle set
FitPAWS portable dog agility cone & hurdle set
Product description
FitPAWS Agility Training & Hurdle Set - adjustable and portable dog agility cone and hurdle set
This FitPAWS Hurdle Set is a completely adjustable and portable dog agility cone and hurdle set and includes four jumping bars, eight highly-visible orange hurdle cones with cut-out holes for additional bar configurations, eight height-adjustment attachments and a black nylon carrying bag.
The FitPAWS Hurdle Set is your perfect assistent for agility training in the backyard, for the traveling animal rehabilitation therapist or for professional dog trainers.
Fully adjustable and portable set of cones and hurdles for training agility of dogs, consisting of four spring bars of 102 cm, eight well-visible orange cones, eight attachments to adjust the height and a black nylon carrying bag.
Suitable for indoor and outdoor use. The height of the jumping bars is adjustable from 5 to 76 cm in intervals of 5 cm.
Perfect for simple rehabilitation or more challenging agility training.
Light weight for easy transport.
This beautiful FitPAWS Hurdle Set is suitable for agility or agility training and can easily be carried in the supplied black nylon carrying bag. The set consists of 8 orange cones and 4 spring sticks. The height of the jumping poles can be varied with the 8 supplied attachments. The minimum height of the jumping sticks is 5 cm, which height is particularly well suited for rehabilitation. The height can be set step-by-step per 5 cm, up to a maximum height of 76 cm.
The hurdles set can be used both indoors and outdoors.
The Hurdle Set consists of:
8 orange cones
4 spring sticks
8 attachments
sturdy nylon carrying bag
The total weight of the set is approx. 5 kg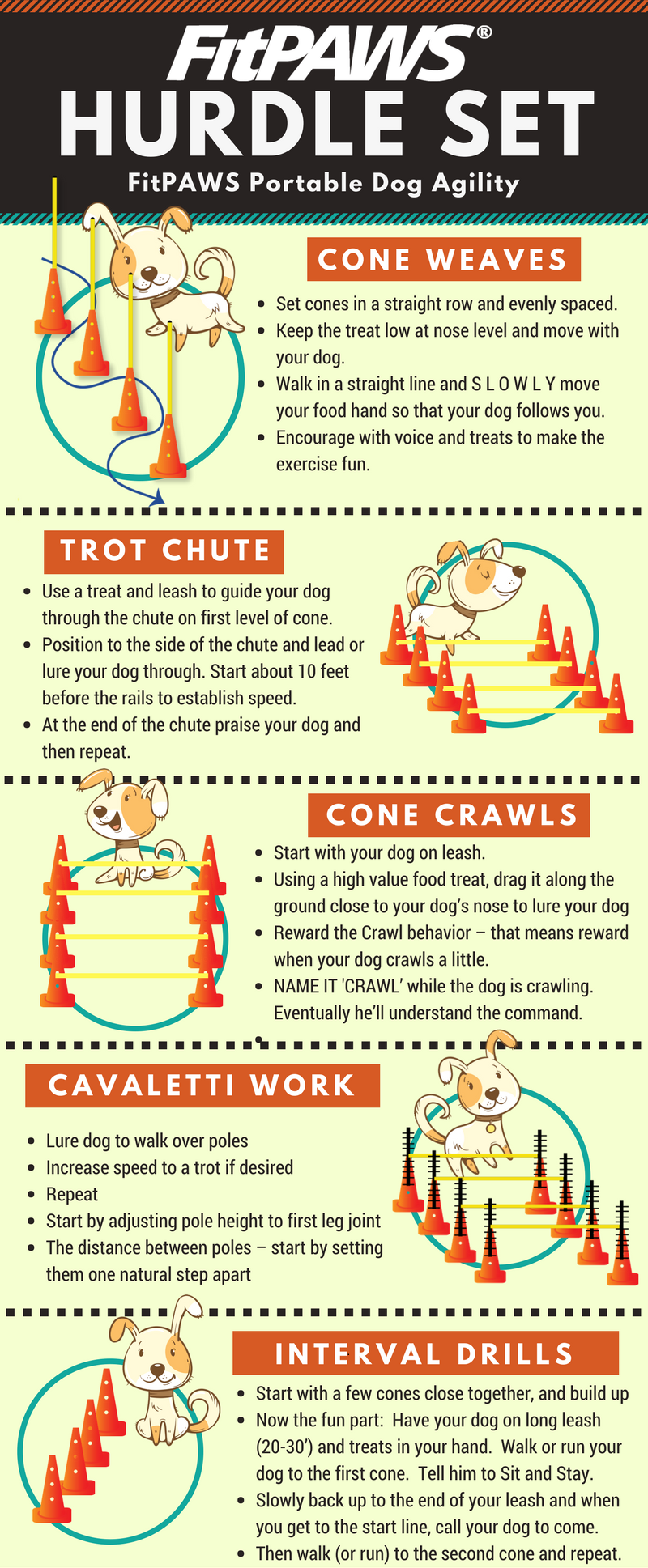 Product information
| | |
| --- | --- |
| Brand | FitPAWS |
| Article code | FPHURD |
| SKU | Hurdle Set FPHURD |
| EAN | 816452010197 |